Future-Past-Present: A Journey Through the Twenty-Tens So Far
Curated by Omar Kholeif | 2010 — 2016 | TRT: 02:28:16
A Pilot For A Show About Nowhere
How can one even start to articulate the conditions that determine the artistic output of a decade that has begun to experience such violent rupture? How does one give voice to a decade that began with the utopia of post-millennial transparency only to descend into a whirlpool of continual lies? 'Post-truth' is the accommodating misnomer that has been instrumentalized by news media to articulate the 'alternative facts' that have been propagated by the presidential campaign and policies of the newly-elected President of the United States, former reality TV star and real-estate mogul, Donald Trump.
Continue reading Omar Kholeif's essay Future-Past-Present: A Journey Through the Twenty-Tens So Far
Love what you're watching? VDB TV: Decades is now available!
Order the full compilation and individual programs on vdb.org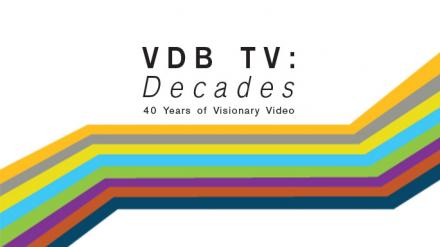 ---
Dr. Omar Kholeif is a writer, curator and cultural historian who has curated more than 100 exhibitions, special projects and commissions globally. At the heart of his work is a mission to change the way that people see and engage with hidden histories in an era of fast-paced social and economic change and hyper-mediated technological evolution.
Kholeif is currently Director of Collections and Senior Curator at Sharjah Art Foundation, where he oversees collection strategy, development, and acquisition, as well as attendant exhibition, publishing and discursive opportunities. Before joining the Foundation, he was Manilow Senior Curator and Director of Global Initiatives at the Museum of Contemporary Art, Chicago; Curator at the Whitechapel Gallery, London; and Senior Curator at Cornerhouse and HOME, Manchester. He has also served as an artistic director and consultant for numerous international film and art festivals.
About VDB TV
VDB TV is an innovative digital distribution project which provides free, online streaming access to curated programs of video and media art. Sourced from the historically significant archives of the Video Data Bank, VDB TV will include work from early video pioneers active in the 1960s and 70s, through to emerging contemporary artists. VDB TV offers viewers across the United States and beyond access to rare video art, the opportunity to engage with programs conceived by a wide range of curators, and original writing, all while ensuring that artists are compensated for their work.
Our Funder