User accounts
Create your account

To place an order through our online checkout system you will be asked to create a customer user account.
Select

Create an account

from the menu bar

Create a Username for your account. Spaces are allowed; punctuation is not allowed except for periods, hyphens, and underscores.

Enter a email address for your account. All emails from the system will be sent to this address. The email address is not made public and will only be used if you wish to receive a new password or wish to receive certain news or notifications by email.

Enter a primary address for your account. You will be able to edit billing and shipping details for any specific order during checkout. Please note that VDB will never provide your details to any third party

Select your customer type(s). This is for Video Data Bank reference and will not affect the options available to you on our website.

Subscribe to our newsletter, if you wish to to so, to get monthly updates regarding news, promotions and new releases.

An email with a password will be sent to you.

Use this password to logon to our website and set your chosen password. Please check your spam folder if the email doesn't arrive in your inbox.
---
Manage Your Account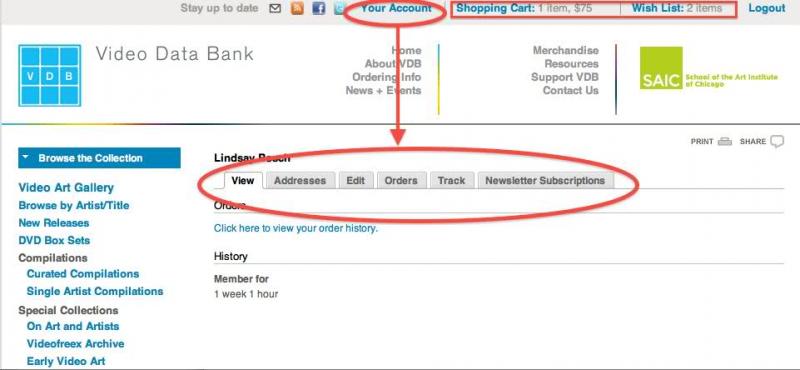 Once you have created your account you can log on in to manage your account.
When logged you will see your shopping cart and your wish list displayed in the upper right of the menu bar.

Click

Your Account

to review your account details

In the

Addresses

tab you can review all the addresses you have used to place orders during checkout

In the

Edit

tab you will find two sub-tabs: under

Account

, change your email address or password; under

Customer Information

, change your primary address, phone, and courier account information.

In the

Orders

tab you can review your account order history and find the status of your VDB orders

The

Track

tab allows you to see the date you created your account, and the dates of any account changes as well as your published activity on our site (such as comments.)

A note to VDB artists: when logging in with your account you will see a

Provenance

tab—that lets you review the activity of your work.