VDB Videoworks Compilations are back! For the first time in recent years, we have packaged a number of titles by some prolific artists from our collection onto their own special Videoworks Compilations. Available for educational purchase and single screening rental, these offer our customers great value! Ordering Videoworks Compilations proves substantially less expensive than buying or renting individual titles, and they give institutions a chance to own a cohesive collection of works by emerging and established artists.
In conjunction with the compilation releases, we are also launching a new feature showcasing special online conversations with each of our Videoworks artists.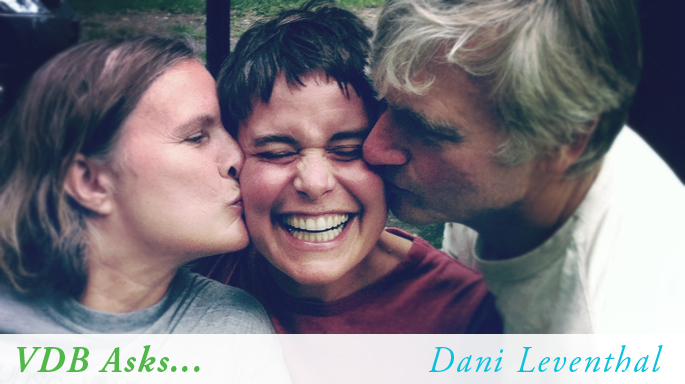 Can you tell us something about your background?
I was born in Ohio, moved to upstate NY when I was 8, and now I'm back in Ohio.
What inspired you to become an artist? To use video?
My dad ran an arts camp for kids when we were small. He had custody of us all summer every year, so we would go to that camp. It was for visual arts, performance and writing. I think that's how I got started. In high school I found solace in the art room and I went on to study it in college. I've always been sensitive to impermanence and that's why I picked up the video camera, to try and capture things.
Did you have formal art training/schooling?
Yes, I did an MFA in Studio Arts at the University of Illinois at Chicago and then another one at Bard College in Film/Video. I learned a lot as a studio assistant for Martin Puryear, Carolee Schneemann, Jackie Goss and Tatana Kellner.
What influences or motivates you in the world?
I'm usually motivated to work when I'm feeling desire, confusion, pain or curiosity. Making work is the way I investigate those states and seek some kind of resolution. 
Currently I'm interested in how perception gets colored by mental illnesses.
What artists or movements are you following right now?
I've been looking at Nan Goldin's photographs, drawings by Julia Fish and videos by Omer Fast.
What was the last exhibition you saw?
Inosculation at the Urban Arts Space (at Ohio State University, Columbus). It was a group show by Ohio artists. There was an interesting plant/water bag piece by Amy Youngs.
What has been the best screening experience of your work?
The most exciting screening experience was thanks to Cinema Project in Portland, Oregon -- because they pasted a hand-printed poster all over the city then put my name up on the marquee at the theater.
What are you working on right now?
Jared Buckhiester and I are collaborating on a narrative video about a lesbian horse breeder who wants to get pregnant.
How do you start a piece? How do you know when a piece is finished?
I start by shooting, that's when I find things. There was this large male horse at a fox hunt where I went to shoot last week. He was blond and his mane was done in a loose braid. I couldn't have planned to find that, and it was beautiful.
What are you currently reading? Watching?
I'm reading a novel by Ann Proulx called The Shipping News. I've been going to films at the Columbus Jewish Film Festival this past week. Some have been good.
November 2012
Dani Leventhal's video diaries capture the banal and the horrific to reveal the transcendent beauty and pain of daily life. Her early videos, Draft 9, 3 Parts for Today, Show & Tell in the Land of Milk and Honey, Litau, Recitation and 9 Minutes of Kaunaus, produced from 2003-2007, have been compiled onto Dani Leventhal Videoworks: Volume 1.
CHECK OUT MORE CONVERSATIONS WITH ARTISTS IN OUR VDB ASKS... SERIES