Advances in the Video Data Bank Preservation Program
Video Data Bank has long been devoted to the ongoing preservation of video works in the collection, and we have been working for a number of years towards the goal of full digitization of the archive. This winter, we're pleased to announce a major advance in our strategic plan: in September 2014, we welcomed Archivist Kristin MacDonough as a Digitization Specialist. During her tenure at VDB, Kristin's work will be entirely committed to the digitization project.
Kristin received her MA at New York University's Moving Image Archiving and Preservation program. Although now a Chicago resident, she continues to serve as a co-director of XFR Collective, a non-profit organization based in NYC offering digitization services through a co-op model. Throught 2014, Kristin also served as the Bay Area Video Coalition's Coordinator for the AV Artifact Atlas, a community-based online resource used to identify and describe anomalies found in audio and video signals. Focusing on material and intellectual accessibility, Kristin has worked as a preservation and archival consultant for independent content creators and caretakers of AV materials, and conducted project-based work with organizations such as the New Museum (XFR STN exhibition), Deep Dish TV, and the Standby Program, as well as the Fundación Patrimonio Filmico Colombiano in Bogotá, and the Universidad Católica del Uruguay in Montevideo, through NYU's Audiovisual Preservation Exchange (APEX) program.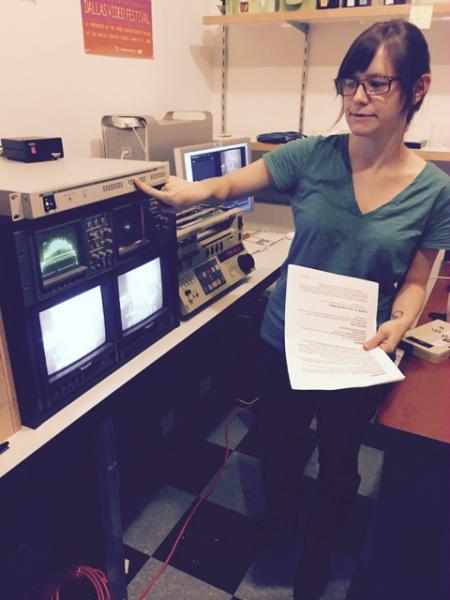 Working with Collection Manager Tom Colley, Kristin's first task was to acquire the equipment necessary to set up two new U-matic digitization stations, in addition to the stations VDB was already managing. The goal, she says, is to "maximize the efficiency of our ongoing efforts." With all digitization stations in working order, VDB is now digitizing early video works on multiple setups throughout the day. "What's unique about our system is that we currently have multiple decks in working order. We have enough full sets of equipment to either digitize simultaneously, or substitute an alternate machine and setup when needed."
In the first months of the project, Kristin concentrated largely on identifying VDB's equipment needs and scouring the internet and archivist community to acquire the necessary monitors, decks and spare parts. Working with Gary Chang of GACC in Chicago, Tom and Kristin are proud to report that they have been able to bring the newly acquired historical equipment into working order. In addition to the U-matic systems, VDB will soon be able to work with ½-inch tapes on the Sony AV-3600 deck and the Sony CV deck, an earlier and often challenging 1/2" format. "Tapes from the 1970s require more attention, time and skill to work with. We are now able to digitize tapes in house that we haven't been able to do before," notes Tom. Crucial to Kristin's research in working with the historical equipment have been original guides from the period, including The Spaghetti City Video Manual by the Videofeex (1977) and The Video Guide by Charles Bensinger (1981). In addition, at Kristin's suggestion, VDB is now the proud owner of a Gardenmaster food dehydrator. This everyday kitchen utensil assists us when working with fragile tapes that may have been exposed to moisture.
Acquiring additional equipment has also proved beneficial for the digitization of contemporary work. Kristin describes one example in which Jem Cohen's Instrument, originally mastered on BetacamSP, was displaying a time code error along the top of the image when played back in the BetacamSP machine. Kristin worked with the tape on our newly acquired backwards-compatible DigiBeta machine, which has an integrated time-based corrector, and the error virtually disappeared. For the first time we were able to create a high-quality digital file of this title. "We're pleased to have Kristin devoted to the project, and with the progress we've made so far," notes Tom. "Our previous digitization efforts were driven largely by distribution need. We now have the opportunity to be extremely systematic and methodical in our goal of digitizing VDB's complete holdings."
As Kristin continues with her project, she will be blogging at VDB.org about her preservation triumphs and challenges. Check back regularly for updates regarding her progress!