VDB Asks... Basma Alsharif
In conjunction with Video Data Bank's April 2014 Chicago screening Basma Alsharif: Doppelganging, presented in collaboration with Conversations at the Edge, VDB sat down with artist Basma Alsharif for twelve essential questions.
Basma Alsharif is a visual artist using moving and still images, sound, and language, to explore the anonymous individual in relation to political history and collective memory. She received an MFA from the School of Art and Design at the University of Illinois, Chicago in 2007, and has been working in Cairo, Beirut, and Amman since then. Basma Alsharif's sharp, seductive films have often been informed by Palestine's history, its contemporary political situation, and the conflicted experiences of those who call it home (whether or not they live there). Her recent films explore bi-location—the act of being in multiple places at once—a state of being she uses to describe Palestinian identity, as well as cinema itself.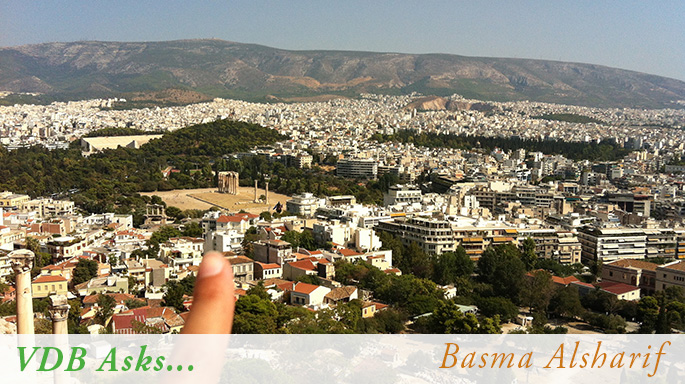 1. Can you tell us something about your background?
My parents are Palestinians (West Bank and Gaza). They met in Alexandria, Egypt and I was born in Kuwait. We lived in France the first seven or eight years of my life, and after being denied residency, immigrated to the U.S. We went back to occupied Palestine frequently throughout my life, and in 2008, I moved to Cairo, Egypt and then moved again to Beirut, Lebanon in 2009. After that I stopped properly living anywhere and instead spent time in Jordan, the Emirates, came back to Chicago, spent extended periods of time in Paris and then started going back to the Gaza Strip last year after a ten year absence.
2. What inspired you to become an artist? To use video?
I've struggled with boredom ever since I can remember and making stuff was always a solution, one that was really pleasurable. I started with drawing, and then photography but never realized I wasn't very "good" at either until I began using video. Video felt like this incredibly powerful tool and it felt oddly natural to think about ideas through the moving image. Eventually the pleasure of making stuff translated into a desire for certain experiences from the moving image and to create alternate methods of communicating, asking questions, engaging and disengaging. All of this magically came about at a time when I was trying to figure out what to do about where I am from.
I am connected to a part of the world that is struggling for justice. To grow up in the first world while the place you are from is systematically being erased is impossible to reconcile. I don't think that art or video really fixes that, but it feels to me like a way to challenge how we understand different spaces at the same time, how we understand ourselves in the world, and it creates a kind of alternate space where we can engage whatever we want, or nothing at all. I can talk about war and the end of civilization within the same frame as farm animals and the penetration of the digital image into our daily lives, or I can empty spaces of everything recognizable to redefine how we view a site. What excited me most about the moving image is the unique space it creates and the potentiality for that space to do what is impossible in real life. My curiosity in what I want to see it do has yet to wane.
3. Did you have formal art training/schooling?
I have a BFA and an MFA, both from the University of Illinois at Chicago - all in one go! I was really excited to make work and to focus on what I wanted to do when I started school. I was trying to absorb as much as I could as fast as I could, and just wanted to experiment with different materials. I attended one semester at the Art Academy in Malmo, Sweden as an undergrad where I was thrown into a studio and left to figure things out with nobody asking or checking on what I was up to. It was the complete opposite of what I was doing in the U.S. I realized no one really cares what you make unless you do.
4. How do you balance life and art? Are you able to make a living through creating art?
I don't make a separation between art and life - though I would really love to start having non-art-related hobbies. I think one of the most rewarding aspects of being an artist is that it is my life. This gives me a reason to travel places, to meet people, and to explore environments (my own and foreign ones). It's a win win. I can't imagine my life without the art-making aspect of it, but I definitely have yet to figure out how to make a living from my art or otherwise. Sometimes it works out that I can live and make work comfortably and it feels like I'm rolling in cash and happiness, but when it doesn't I find myself scratching my head about what job I should get in order to support my practice - it's a total conundrum.
5. What influences or motivates you in the world?
curiosity. travel. seeing what my friends are making. a great film or exhibition. isolation. human beings. evolution. the sun. animals. plants. bodies of water. imaginary sounds.
6. What artists or movements are you following right now?
All the friends I have who make work! I feel really lucky to know so many folks whose work I truly admire and am excited to keep up with. I went to school with some really great people and have continued to meet wonderful artists and filmmakers everywhere I go.
7. What was the last exhibition you saw?
I went to the Acropolis Museum in Athens. It blew my mind.
8. What has been the best screening experience of your work?
One roll of super 8mm film that I shot in Tinos, Greece, projected in a public square on the island after ten days of shooting and hand-processing Ektachrome, thanks to LabA (an independent film lab based in Athens, Greece).
9. What are you working on right now?
I'm working on a new film and a series of sound pieces whose aim is to hypnotize the audience. I've also become really curious about the end of civilization, the dissolving of culture and Doppelgängers and somehow all of it is coming together right now.
10. How do you start a piece? How do you know when a piece is finished?
It starts with a curiosity or a set of questions, and as the curiosities grow and certain ideas or images start to connect with one another then I think about how to work with these ideas as a material, or object - I start wondering what these ideas would look like or sound like or how they would exist in space, and then I sort of trial and error with different strategies until all of these ideas, and questions, and curiosities become something that can be experienced rather than understood. I am done once I am bored and not thinking about the decisions I've made/am making.
11. What are you currently reading? Watching?
I'm reading: Cannery Row - John Steinbeck; Eichmann in Jerusalem: A Report on the Banality of Evil - Hannah Arendt; and Mastering Astral Projection: 90-day Guide to Out-of-Body Experience.
I started watching Breaking Bad.
12. Room for final thoughts:
I'm wondering if my answers should have been more formal.
Read more in the VDB Asks... series