VDB Announces New Videofreex Releases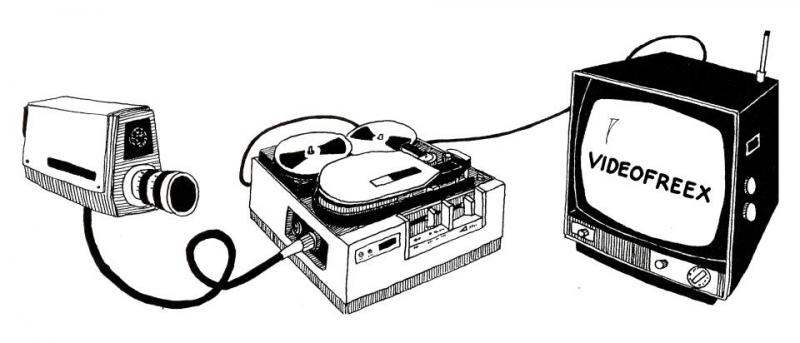 The Video Data Bank Preservation Program is proud to announce the release of eleven previously unseen titles from the Videofreex Archive. Shot between 1969-1975, these works are a significant addition to the twenty-three Videofreex titles previously restored. As part of this ongoing effort, VDB Director, Abina Manning and Collection Manager, Tom Colley have worked in conversation with Videofreex members to identify titles for preservation, and to record the circumstances surrounding the creation of the tapes. VDB has partnered with preservation specialists, including the Bay Area Video Coalition, in order to preserve footage from the Videofreex original 3/4 inch and 1/2 inch open reel master tapes. Many of these restored works have been partially funded by sponsors with personal or research interest in the content of the tapes. Those interested in the Videofreex and early video are invited to read more about the Videofreex Archive Restoration Project, and can review the complete list of titles still in need of preservation at this link. Furthur reading can be found in Davidson Gigliotti's essay Video Art Was Born Subversive.
New Single Title Releases:
Chicken Dinner (c. 1972) The Videofreex tape a group of young people who are running a farm.
Circo dell'Arte (Circus Arts) (1969) A troupe of jugglers and musicians perform for a Central Park crowd.
Laughing Song and Crying Song (1971) A performace including Bart Friedman on harpsichord and David Cort on vocals.
Mes and Youse (1971) In an example of early image processing, the Freex perform to camera as their faces morph together.
Money (c. 1972) Filmed on the streets of Soho, New York, Skip Blumberg creates a one-word performance.
Rome N.Y. (c. 1971) A tour through the town of Rome N.Y., followed by an arts panel visit to the Art and Community Center.
Shirley Clarke and the Camera (1971) Freex visit the Kitchen (NYC) looking for Shirley Clarke, and bump into the Vasulkas.
Soup in Cup (c. 1972) A Japanese Kabuki-influenced performance, shot in the woods in Winter.
Sybil (c. 1972) Nancy Cain interviews an upside down chin face about Women's Liberation.
Mes and Youse, 1971
New Multi Title Releases:
Probably the World's Smallest TV Station (1975) The town of Lanesville, NY was home to the Videofreex for more than ten years, and their house was dubbed "Probably the World's Smallest TV Station." This overview details the regular activities of the group and their work, and includes Media Bus productions To the Circus (1975, 10:47), Harriet (1975, 17:00), Oriental Magic Show (1975, 3:00), Another Baby Tape (1975, 4:00), Frank "the Fist" Farkle vs. Rocky Van (1975, 3:50).
Subject to Change (1969) Videofreex original TV pilot taped live on December 17, 1969 for CBS executives. Included are clips from various Videofreex tapes, including Circo dell'Arte (Circus Arts), Chicago Travelogue: Abbie Hoffman, Jerry Rubin and the Yippies, and Building Dome in Riverbi Earth People's Park. Also shown are clips of psychedelic happenings, demonstrations, the building of a community school, and performance art. Everything is broadcast to a live studio audience who are also taped, and clips are interspersed with live music performed by a number of bands.

Subject to Change, 1969
New Compilation Program:
In addition to the above works, Video Data Bank has published a compilation of Videofreex titles curated by Abina Manning. Tuned In, Turned On! Videofreex Tape the World (2011) features highlights and excerpts from twelve titles created by the Videofreex between 1969 and 1972. First screened at the WRO Biennial, Wroclaw, Poland in 2011, this compilation is availble for screening, and for educational libraries looking to acquire an overview of the the Videofreex prodigious output.

Women's Liberation Demonstration NYC, 1970