VDB Asks... Jennet Thomas
In conjunction with the recent release of The Advice Shape, we are pleased to share a special online conversation with Jennet Thomas about her background and work.
"Over the past two decades, London-based artist Jennet Thomas has evolved a distinctive video practice embracing a homespun folk aesthetic to produce absurdist narratives that stubbornly refuse reason. Complexly strange, Thomas's work is committed to developing new and experimental forms of storytelling, all to make sense of what seems like an increasingly non-sensical world."

– Jon Davies, from the essay Kitchen Sink Surrealism for a retrospective of Jennet Thomas' work at The Pleasure Dome, 2010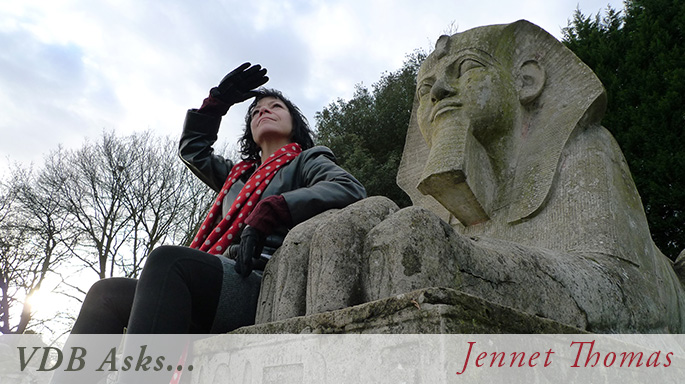 1. Can you tell us something about your background?
I was born into a family of scientists in the small town of Hatfield, Hertfordshire in South East England. My Dad, a Physicist, was always conducting experiments around the house…. his little meccano machines working away in the utility room. I was the only arty one in the family and enjoyed being 'different', and my family were supportive. We spent a year in Ohio when I was a young kid, where I would be given free sweets in the store if I would speak some more in that cute, strange accent. School in England was okay - a modern State-run Girl's Grammar - only when my bullying nemeses Jackie Stalker left. Jackie, I hope your shit came back to hit you.

2. What inspired you to become an artist? To use video?
I was always going to be a painter or a writer as drawing and writing stories opened up new worlds and gave me power. I didn't know anyone who was an artist but I liked David Bowie and Samuel Beckett. I didn't know that people like me could make films when I was young - this was back in the analogue age.

3. Did you have formal art training/schooling?
I went to Art College in London, at Camberwell School of Arts, to do a Fine Art BA Hons in painting, which I pursued seriously for quite a while and might go back to eventually. It was only when I bought a Super 8 camera at a car boot sale, and started hanging out with underground film makers (whom I found very attractive) that I realised I could also make films - a more flexible vehicle for my ideas. I made experimental animations that I projected alongside monologues I performed at Exploding Cinema shows. Exploding Cinema is a collective I co-founded back in the early 1990's. It emerged along with the new wave of DIY, punk inspired underground cultural activity at that time. We started out in a vast, squatted ex-suntan oil factory in Brixton, South London. All my training in filmmaking is self-taught with the help of friends around that collective movement, and was not a part of the, by then, rather stilted and academic Experimental/Structuralist film scene in London.

4. How do you balance life and art? Are you able to make a living through creating art?

My partner, filmmaker Paul Tarragó and I live in a kind of Art-Life house in Nunhead, South London where the life and art are pretty much blended as our studios are at home. When people who know our films come and visit us this can be a little freaky for them at first, seeing various props staring down at them! Making stuff is the engine of meaning for me, so I can get frustrated when things keep me away from that, but there is often a great hands-on flow between the art/teaching. Anyway, it's not easy to make a living just from experimental/art film! Though I do get more commissions now that bring in some money too.

5. What influences or motivates you in the world?

All my work has, at its core, a little nugget of something that really bothers me. In SHARONY! it's girls' toys, in THE ADVICE SHAPE it's probably my relationship with Google, in SCHOOL OF CHANGE, it's the absurdity of reductively measuring the unmeasurable. But just as strong as these social-political pains, is my need to construct alternate worlds that I can play in and invite others into for an encounter with another kind of reality inside the everyday.

6. What artists or movements are you following right now?
I'm inspired by the imaginative spaces and structures in experimental fiction; Paul has just published a brilliant collection of short experimental fictions called The Mascot Moth. I am also a big fan of Ben Marcus - hugely enjoyed his new novel The Flame Alphabet.

7. What was the last exhibition you saw?
A great show at an unusual gallery in my neighbourhood called Flat Time House, which was the home of artist John Latham. The show was called The Mental Furniture Institute - it's about radical pedagogical activities of the late 1960s in the UK; The Anti-University, The Hornsey Sit-in and Alexander Trocchi's Sigma project. Really inspiring, and sobering in the new context we have right now in England; the sweeping privatisation and marketization of the universities. Mirroring what's happening in the UK to our NHS, our disastrous Conservative government is hurling us towards the US system of things in a horrific, half-witted ideological spasm, beneficial only to their political sponsors.

8. What has been the best screening experience of your work?
The installation show I did in 2012 of my longest work SCHOOL OF CHANGE at the wonderful Matt's Gallery in London. I have been doing that thing that many filmmakers of our ilk have been doing over the past decade - moving into the Gallery context. I love the experimental/underground film scene, but this show enabled me to create a whole sculptural, expanded narrative environment in which the looping film was embedded, and continuous live performances took place. It involved some great collaborations, and I did quite a bit of the performing (as a schoolgirl) - it was a blast.

9. What are you working on right now?
I'm working on ideas for a film set in an alternate reality in which there is a bizarre cargo cult of Margaret Thatcher. There is a really disturbing mechanical doll of her that has "The Thatcher Device" inside it. It's a little metal thing. The world is both primitive and hi-tech, very fucked-up really, pretty hilarious I hope. It's for this great gallery in Blackpool called The Grundy, and there will be sculptural installation/performances too. I'm also working on a live performance/video piece for our next DARK HORSE MOVING PICTURE SHOW, a kind of cabaret-style film show I'm doing twice a year with Paul at The Horse Hospital in London. We're also touring these shows a bit, if anyone's interested…?

10. How do you start a piece? How do you know when a piece is finished?
I have a chunky black sketchbook into which I am constantly writing/sketching ideas, images and event sequences that pop into my head. All kinds of rubbish. When the pressure is right, I invent a title that pulls them together into thematic clusters like a draw string thread on a gym bag. I re-work and push the thing until it's got enough coherence to start making, but there is always room for new turns during the process. Some pieces are led by words, some by images/actions/sound, and there is usually an invigorating dialectical struggle between those teams. Some of my best pieces are finished before I expect, if I stand back I can see that what I thought was incomplete is actually complete in a new kind of way.

11. What are you currently reading? Watching?
Reading:
The Beach Beneath the Street: The Everyday Life and Glorious Times of the Situationist International by McKenzie Wark - this smart writing on them feels really relevant now. The classic 800-page history book Religion and the Decline of Magic by Keith Thomas. Incredible things in there. An old favourite Locus Solus by Raymond Roussel.
Watching:
Continually wowed by the films of Mary Ellen Bute. Breaking Bad - I love the homemade science angle. I am excited about seeing Omer Fast's new work on drones 5,000 Feet is the Best and I always enjoy seeing Shana Moulton's new stuff, especially her performances.

12. Room for final thoughts:
I've had so much coffee I hope this all made sense.
October 2013
Jennet Thomas is a Senior Lecturer on BA Fine Art: Print and Time Based Media at the University of the Arts London, Wimbledon College, she also regularly does visiting lectures to the US and Canada as well as the around the UK.
CHECK OUT MORE CONVERSATIONS WITH ARTISTS IN OUR VDB ASKS... SERIES