VDB Asks... Semiconductor
VDB Videoworks Compilations are back! For the first time in recent years, we have packaged a number of titles by some prolific artists from our collection onto their own special Videoworks Compilations. Available for educational purchase and single screening rental, these offer our customers great value! Ordering Videoworks Compilations proves substantially less expensive than buying or renting individual titles, and they give institutions a chance to own a cohesive collection of works by emerging and established artists.
In conjunction with the compilation releases, we are also launching a new feature showcasing special online conversations with each of our Videoworks artists.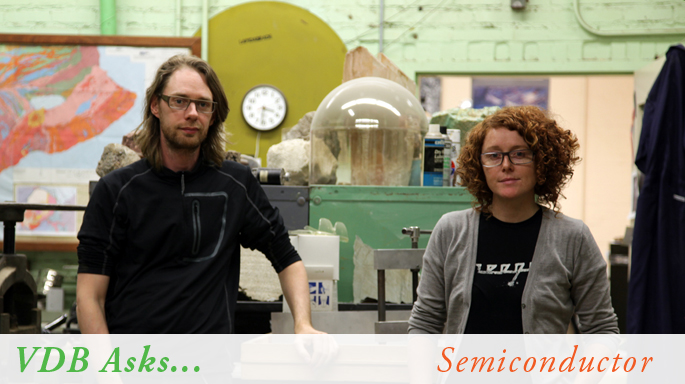 Can you tell us something about your backgrounds?
We both studied fine art and worked in a very hands on way with objects and materials, but also with moving image and sound which became large scale installations. We started working together after college. We had similar interests in material, landscape and sound and similar ways of working.
What inspired you to become an artists? And to incorporate video into your practice?
We both always knew we were artists. After college we started experimenting with the first generation of current computer hardware and software and saw it as a new medium. We approached it in a very sculptural way, figuring out it's possibilities, trying to find our own language with it. Through working with the idea of data as a malleable material we played with image and sound which led to moving image works. We still think of what we do as more of a sculptural process though.
How do you balance life and art? Are you able to make a living through creating art?
We are constantly shifting between making art, talking about our art, presenting our art, installing our art, writing about our art, fundraising for our art, answering questions about our art! We enjoy the unpredictability of our lives, no week is the same as another.
We have so far managed to make a living through our art which is amazing.
What influences or motivates you in the world?
Exploring our world and trying to make sense of it.
What was the last exhibition you saw?
We went to the Turner Prize exhibition at Tate Britain in London the other day.
What has been the best screening experience of your work?
A couple of years ago we did a screening programme of our work in Mexico City at the Art Museum. Because of the size of the city you get huge audiences to everything and this was no different with everyone cheering after every film, you can't get a better reaction than that!
What are you working on right now?
We spent 3 months in Washington DC doing a Smithsonian Artists Research Fellowship in the Museum of Natural History's, Mineral Sciences Laboratory. We're fundraising at the moment to make a new moving image work that has come out of that time. We filmed the labs and scientists at work and will introduce some animation.
How do you start a piece? How do you know when a piece is finished?
Sometimes work can develop from long periods of research in residencies, sometimes it can start with a material like some scientific data or some writing that we come across, we have also made several works using archives and re-contextualizing them. We seem to have 3 or 4 different approaches we use to make work.
What are you currently reading? Watching?
We're always dipping into old technical books or scientific documents, we have built up quite a collection now and wish we had made a note of where each one has come from as we often pick them up on our travels. Recently someone gave us a beautiful book on the Sun from 1883 with amazing hand drawn illustrations of the Suns mechanics and early instruments used to study it.
November 2012
Semiconductor is UK artist duo Ruth Jarman and Joe Gerhardt. Their videos, All the Time in the World, 200 Nanowebbers,Do You Think Science, Brilliant Noise, and Earthmoves, produced in 2005 and 2006, have been compiled ontoSemiconductor Videoworks: Volume 1.
CHECK OUT MORE CONVERSATIONS WITH ARTISTS IN OUR VDB ASKS... SERIES