Barry Doupé Videoworks: Volume 1
01:10:23 | 1 DVD
Collection: Single Artist Compilations
Tags: Animation, Body, Mental Landscape, Videoworks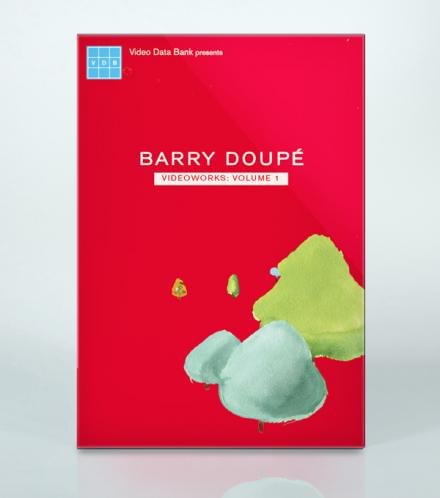 Barry Doupé is known for using crude computer-animation indicative of early video games to create unnatural environments populated by strange abstracted characters. The spaces and the characters within them are never stable, always in a liminal state of being uncannily familiar yet completely foreign. For Doupé, these liminal spaces are meant to evoke the unsteady psychic terrain of the subconscious. This awareness of the subconscious as an unstable space of remembering is a major theme in all of the works in Barry Doupé Videoworks: Volume 1.
We see this first with A Boy on the Dock Blowing His Nose, where Doupé explores personal memory by using hand-painted animation to create scenes of childhood fantasy and the vaguely familiar. The use of spastically gyrating color and line, dream imagery, morphing forms and spirographic facial features all communicate that this is an unsteady reality. Perhaps this is a dream space, perhaps imagined, or perhaps some psychic space of becoming that exists between consciousness and the subconscious.
In Distraught Mother Reunites with Her Children, Doupé again creates a strange world populated by liminal subjects. The scenes, while completely foreign and abstract, feel familiar somehow. Hybrid animals, deformed people, floating animal abstractions, glitches and ominous shrill tones create a space of emotional and psychic uneasiness as comprehension of the uncanniness evoked by these images is kept just beyond our grasp.
In At the Heart of a Sparrow, Doupé continues his examination of unstable psychic spaces. Again, the scenes seem familiar. A person splitting firewood, climbing stairs, a horse-drawn cart in the desert, nuns, all things which are familiar to us on an iconographic level. But as the At the Heart of a Sparrow progresses, its footing in identifiability decreases more and more, as if in a dream. Environments become unnatural, at odds with the equally unnatural characters that occupy them. The uncanniness is heightened even more by Doupé's use of archetypes and references to cultural myths. However, these references are never fully embodied, always kept at a distance by Doupé's ambiguous environments.
Included Titles
This classical animation explores personal memory, associations and atmosphere. "I remember from the other room I could hear you violently buttering bread. I secretly hoped that I could be your next victim." "Barry Doupé's lusty A Boy on a Dock...

Collection: Single Titles

Tags: animation

"A cast of computer-generated, quasi-human smears star in a Gothic Western about Oedipal anxiety--when they aren't careening through a hyper-modern metropolis and babbling in German." --Images Festival, 2006 catalogue

Collection: Single Titles

Tags: animation

An episodic adventure highlighting the riff between mind and body. Through a series of animated narratives, role reversals and associations, images are driven out and stacked one on top another. "A best friend is like a four leaf clover: hard to...

Collection: Single Titles

Tags: animation, body, mental landscape
Related Content