The History of the Future: A Franklin Furnace View of Performance Art
2010 | 04:47:48 | United States | English | Color | 4:3 | DV video
Collection: Box Sets, Single Titles
Tags: Activism, Art History, Documentation, History, Performance
Welcome to The History of the Future: A Franklin Furnace View of Performance Art. This disc set is based upon a live event that took place at the Abrons Art Center in New York City on April 27, 2007. Within this box set, you'll find performances from that event as well as historical videos that capture the thrills and chills of performance art during the last 30 years.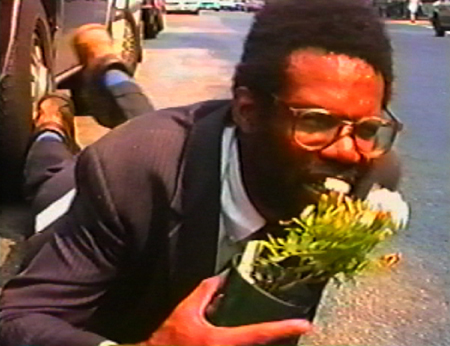 Pope.L, "Tompkins Park Square Crawl," July 1, 1991

Disc 1: HIGHLIGHTS REEL
This disc contains the performances of Michael Smith, Alien Comic, Martha Wilson, Reverend Billy and the Stop Shopping Gospel Choir, and Julie Atlas Muz live at The History of the Future. It also contains video excerpts from past performances by William Wegman, Martha Rosler, John Jesurun, Blue Man Group, Eric Bogosian, Kipper Kids, X-Cheerleaders, William Pope.L, Coco Fusco and Guillermo Gómez-Peña, Annie Sprinkle, John Fleck, Karen Finley, Tim Miller, Holly Hughes, Sapphire, and Ron Athey.

Disc 2: CULTURE WARS I
1. Holly Hughes, 30 minute excerpt of "Preaching to the Perverted," 2000, 30:28
2. Ron Athey, "Four Scenes in a Harsh Life," 1994, 34:09

Disc 3: CULTURE WARS II
1. Annie Sprinkle, "Post Port Modernist," 1990, 15:49
2. Tim Miller, "Stretch Marks," 1990, 42:12

Disc 4: IDENTITY POLITICS
1. Ishmael Houston-Jones, "In the Dark: PowerPoint Version," performed for "The History of the Future," 2007, 11:49
2. Alba Sanchez, "Sweet Dreams," from "The Tall Blonde Woman in the Short Puerto Rican Body," performed for "The History of the Future," 2007, 10:03
3. Moe Angelos and Peg Healey, "Dreamworld," 1996, 4:28
4. Nicolás Dumit Estévez, "For Art's Sake," 2005 to 2007, 16:51

Disc 5: THE BODY AS ART
1. Michael Smith, "Baby IKKI," 1978, 4:12
2. Stuart Sherman, "Seventh Spectacle," 1976, 26:27
3. THE BODY OF THE NET, recorded for "The History of the Future,", 2007, 17:46, Murray Hill hosts a slide presentation of the works of Jack Waters, Mouchette, Ricardo Miranda Zúñiga, Adrienne Wortzel, Grupo 609, Joshua Kinberg/Yury Gitman, and Wooloo Productions.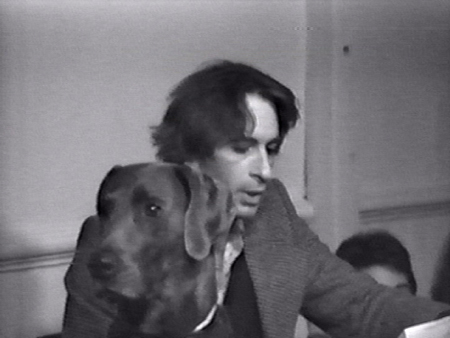 William Wegman and Man Ray, Reading at Franklin Furnace, February 15, 1977
Exhibitions + Festivals
The History of the Future, April 27, 2007