Partially Buried Compilation
00:56:00 | 1 DVD
Collection: Single Artist Compilations
Tags: Activism, Art History, Conceptual Art, Crime or Violence, History, Memory, Time, War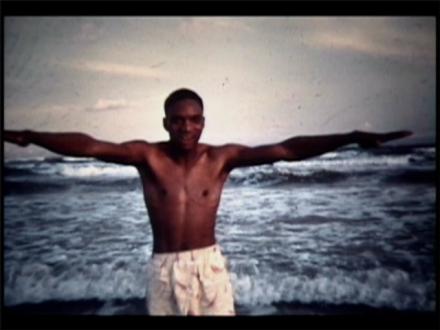 At the epicenter of Green's extensive multimedia installation Partially Buried in Three Parts (1996-1997), Partially Buried (1996) and Partially Buried Continued (1997) explore a web of genealogical traces, initiated by a reflection upon the work Partially Buried Woodshed by the artist Robert Smithson which was primarily known as a photograph and believed to no longer physically exist; both films provide an overlapping exploration of ways in which we attempt to reinterpret the past as well as our contemporary relations: How are the "returns of what is repressed" mediated, and how do they erupt?
Questions of genealogy are also explored with the juxtaposition of artistic forbears, among them Smithson and Theresa Hak Kyung Cha, and blood relations. The complexities of how we find ourselves entangled in relationships to countries, nationalities, and people, to locations and to time, and to the ensuing identifications – these aspects continue to be questioned in both films.
" It is apparent that one of Green's lasting contributions will be to have challenged the finitude of the cinematic and/or video medium by producing works that are at once complete and incomplete. They can and do stand on their own, and are fit to be watched separately, but they function even more efficiently in dialogue between themselves. For it is in this dialogical relationship that the images of these works are constantly transformed, reactivated, and reanimated. The flow of Green's video tapes never runs dry."
– Nora M. Alter. "Between the Frame: Renée Green's Video Practice." In: Renée Green: Shadows and Signals. Barcelona: Fundació Antoni Tàpies, 2000.
Included Titles
Partially Buried explores a web of genealogical traces. In this work the artist probes the notion of sites of memory as well as site-specific work by focusing on the location of Kent, Ohio. Partially Buried references the year 1970 during which the...

Collection: Single Titles

Tags: activism, art history, conceptual art, history, memory, religion/spirituality, time, war

Partially Buried Continued is a meditation on ways in which one's associations to history, location, and genealogy become tangled in a subjective web which makes it complicated to separate history from fiction.

Collection: Single Titles

Tags: expedition/travel, language, photography