Paul Bush: Working Directly
00:38:00
Collection: Single Artist Compilations
Tags: Animation, Experimental Film, Image Processing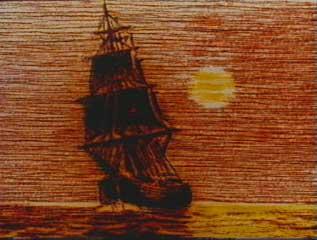 A DVD box set compilation featuring four animations made by scratching directly into the surface of the film.
EXTRAS
A 2-minute cinema commercial which combines Bush's stop frame techniques with McLaren influenced painting on film. A pilot sequence for a scratched-on Imax film which was partly commissioned as a signature film for the London Imax but never completed.
The complete Albatross storyboard and an interview and technical diagrams about the making of the scratched films.
The DVD box set includes an illustrated booklet with complete filmography and an essay on Bush by Gareth Evans.
"Bush has demonstrated a fascination with artistic techniques of the past, particularly those that have endowed us with works whose great and enduring beauty tend to eclipse the extraordinary degree of devoted labour involved in creating them."
--Chris Darke
"The secret preoccupation of these films, finally, is beauty. It may be the case that the filmmaker, in focusing so relentlessly on issues of time, narrative, history, the intersection of the graphic and the cinematic, and the question of clarity of presentation, doesn't himself see it, but the viewer does. As if beauty were a necessary by-product of these investigations, beyond the intention of the artist, yet an inevitable result of his rigorous control and passionate pursuit of meaning."
--Leslie Dick
This title is only available for purchase on PAL DVD.
Included Titles
A journey into the centre of Hell; Dante's The Divine Comedy, illustrated by Gustav Dore's wood engravings and animated by scratching directly into the surface of the film.

Collection: Single Titles

Tags: animation

A radical reworking of an etching by Italian artist Giorgio Morandi, brought to life by engraving fame by frame into the photographic emulsion of color filmstock. The viewer is taken on a journey through the etching, accompanied by the sounds that...

Collection: Single Titles

Tags: animation

A ship sets sail on an epic voyage through malignant natural and supernatural elements from which one man alone survives. An adaptation of Samuel Taylor Coleridge's The Rime of the Ancient Mariner illustrated by19th Century wood engravings which are...

Collection: Single Titles

Tags: animation, literature

To the background of village celebrations a father questions his daughter about a suspected lover. She cleverly deflects him with her answers but the passions rise, the villagers take sides and what began as harmless banter becomes bitter and angry...

Collection: Single Titles

Tags: animation