Sadie Benning Videoworks: Volume 3
01:08:40
Collection: Single Artist Compilations
Tags: Consumer culture, Feminism, LGBTQ, Pixelvision, Videoworks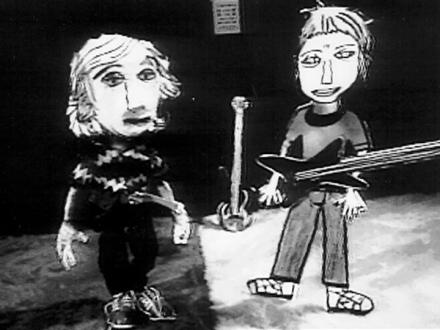 A collection of three remarkable works by Sadie Benning, produced between 1995 and 1998, including German Song, The Judy Spots, and Flat is Beautiful. Shot in black and white Super-8 film, German Song muses on a disengaged youth and grey afternoons spent wandering, and features the hard-edged music of Come, an alternative band from Boston.
The Judy Spots is a tape composed of five episodes featuring Judy, a teenage girl puppet made of papier maché as she plays in a band, works at a fast food restaurant, shops at the mall, and feels scared at night.
Flat is Beautiful is an experimental, live-action cartoon narrative using masks, animation, subtitles, drawings, and dramatic scenes to investigate the psychic life of an androgynous eleven year-old girl. Growing up in an working class neighborhood with her single mother and gay roommate, Taylor confronts the loneliness of living between masculine and feminine in a culture obsessed with defining gender difference. Shifting between black and white film and grainy pixelvision video, Flat is Beautiful explores the internal and external worlds of sad people.
Included Titles
Shot in black and white Super 8, this lyrical short follows a wandering, disengaged youth through grey afternoons. German Song features the hard-edged music of Come, an alternative band from Boston.

Collection: Single Titles

Tags: experimental film, feminism, lgbtq, music, sexuality, youth/childhood

These five short videos introduce Judy, a paper maché puppet who ruminates on her position in society. Like Judy, of the famous Punch and Judy puppet duo, Benning's Judy seems to experience the world from the outside, letting things happen to her...

Collection: Single Titles

Tags: animation, feminism, lgbtq, music, sexuality, youth/childhood

Flat is Beautiful is an experimental live-action cartoon using masks, animation, subtitles, drawings, and dramatic scenes to investigate the psychic life of an androgynous eleven-year-old girl. Growing up in a working class neighborhood with her...

Collection: Single Titles

Tags: feminism, lgbtq, pixelvision, sexuality, youth/childhood