Tin Drum Trilogy
01:51:30 | 1 DVD
Collection: Single Artist Compilations, Box Sets
Tags: Activism, Middle East, Politics, Religion/Spirituality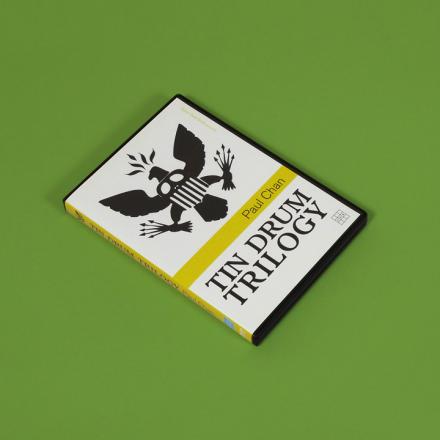 Paul Chan's Tin Drum Trilogy includes the highly acclaimed single channel videos RE:_THE OPERATION (2002, 27:30, U.S., color, sound), BAGHDAD IN NO PARTICULAR ORDER (2003, 51:00, U.S., color, sound), and Now promise now threat (2005, 33:00, U.S., color, sound).
In addition, this new DVD box set includes audio commentary by Paul Chan and VDB Director Abina Manning. An accompanying monograph includes title descriptions, artist's biography and newly commissioned contextualizing essays by Dierdre Boyle and Yates Mckee.
"Each video in the series was made utilizing different experimental traditions, but with one consistent theme: that to love your enemy is to know you enemy... The Bush administration (in RE:_THE OPERATION), Iraqis (in BAGHDAD...), and the religious right living in red-state America (in Now promise now threat) are all perceived, rightly or wrongly, as enemies. The task of all three videos has been to make the friend/enemy distinction more difficult while at the same time giving a time-based critique of the political tragedy/farce that is our first five years of the twenty-first Century."
--Paul Chan
The following essays are included:
Sleeping with the Enemy: Paul Chan's Flirtatious Tin Drum Trilogy -- Deirdre Boyle
The Prayers and Tears of Paul Chan: Profane Illumination and the Post-Secular in BAGHDAD IN NO PARTICULAR ORDER and Now promise now threat -- Yates Mckee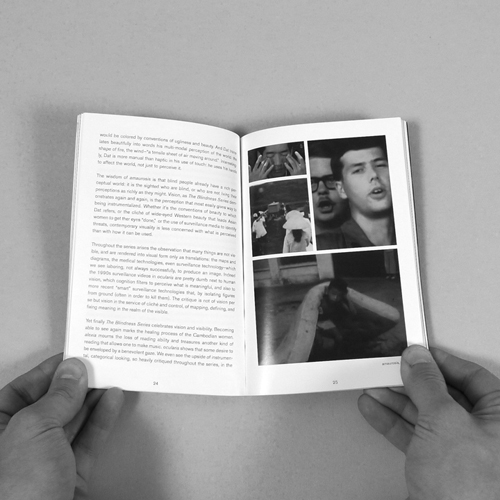 Included Titles
Based on a set of drawings that depict George W. Bush's administration as wounded soldiers in the war against terrorism, RE:THE_OPERATION explores the sexual and philosophical dynamics of war through the lives of the members as they physically...

Collection: Single Titles

Tags: animation, crime or violence, media analysis, middle east, politics

BAGHDAD IN NO PARTICULAR ORDER is an ambient video essay of life in Baghdad before the invasion and occupation. Men dance, women draw and sufis sing as they await the coming of another war. In seven languages (Arabic, Chinese, English, French,...

Collection: Single Titles

Tags: documentary, expedition/travel, middle east, war

"Now too late, he understood her. The heart that pumped out love, the mouth that spoke the Word, didn't count." --Toni Morrison, "Beloved"

Collection: Single Titles

Tags: activism, media analysis, middle east, politics, war
Exhibitions + Festivals
Sullivan Galleries, SAIC, Chicago, 2015