Paul Bush: Pixilated
00:41:00
Collection: Single Artist Compilations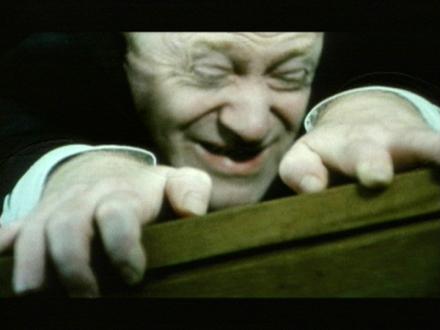 Pixilated, an archaic word meaning enchanted, bewitched, magical, insane, and the stop frame animation of objects and people.
In addition to Furniture Poetry, Dr Jekyll and Mr Hyde, Pas de Deux de Deux and While Darwin Sleeps, this DVD compilation includes interviews, commercials, early films and an installation by Paul Bush.
This title is only available for purchase as a PAL DVD.
Included Titles
The filmmaker accepts the challenge of the philosopher and changes not only a table but also chairs, shoes, jugs, teapots and almost everything else lying around his house. "What prevents me from supposing that this table either vanishes or alters...

Collection: Single Titles

Tags: animation, european film/video, humor

Imagine that the camera is possessed with a psychosis similar to human schizophrenia; suppose that this disease subtly changes every single frame of film while leaving the narrative superficially intact. Then imagine that these symptoms came on as...

Collection: Single Titles

Tags: crime or violence, experimental film, image processing

The orchestra begins and a male and female dancer move from opposite sides of the stage. The dancers embrace and begin the White Swan pas de deux from the ballet Swan Lake. However this is not the ballet as it is normally performed. The...

Collection: Single Titles

Tags: animation, dance, european film/video, film or videomaking, performance

More than three thousand insects appear in this film each for a single frame. As the colours glow and change across their bodies and wings it seems that the genetic programme of millions of years is taking place in a few minutes. It is a rampant...

Collection: Single Titles