HalfLifers: The Complete History, 1992 - 2010
02:07:30 | 2 DVDs
Collection: Single Artist Compilations
Tags: Body, Death and Dying, Food, Future, Humor, Media Analysis, Performance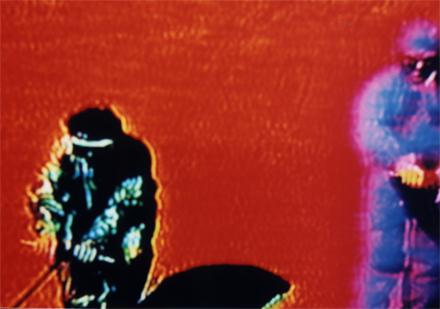 HalfLifers is an ongoing collaborative project created by longtime friends and fellow media artists Torsten Zenas Burns and Anthony M. Discenza. Embracing a gestural improvisation-based performance style and championing a rigorously low-fi aesthetic, HalfLifers engages a shifting region of speculative fictions, from play therapy and improvised crisis re-stagings to zombie architectural systems and psychic sandwich surgery.
This 2-disc compilation gathers together for the first time all of the HalfLifers single-channel work produced between 1992 and 2010, and features rarely-seen documentation of several large scale media installations. Also included are excerpts from early projects created prior to the official formation of the collaboration, along with the complete text of a 1999 Film Comment essay, "Quest for What: Jim Supanick Locates the HalfLifers in the Video Badlands."
HalfLifers projects have been presented at venues around the world, including the Museum of Modern Art, New York; the Whitney Museum of American Art; the Pacific Film Archive; the New York Video Festival; the Chicago Underground Film Festival; Video_Dumbo; the Impakt Festival; the Stuttgart Filmwinter Festival for Expanded Media; EMAF; and many others. Their work was recently included in the book, Radical Light: Alternative Film and Video in the Bay Area, 1945 - 2000.
Included Titles
Various scenarios are envisaged where a rescue might be possible. Props include a hoist, a trolley, various doors and windows, ladders and a length of hose. It is unclear whether our two heroes help or hinder one another. What is certain is that...

Collection: Single Titles

Tags: humor, performance

Burns and Discenza continue to battle invisible forces with the use of various children's toys, cars and a mechanical digger, a paddling pool, rubber rings and ladders. Eventually they escape the scene of their distress in a hatchback car. This...

Collection: Single Titles

Tags: humor, performance

In this attempt to resolve the on-going crisis, Burns and Discenza find themselves in, variously, a childrens adventure playground, a garage and a yard. They utilize a mechanical digger to dig the soil, they toil at skipping and pogo-ing, they...

Collection: Single Titles

Tags: humor

Actions speed up, slow down, and run at regular speed. The usual props are there, as is a wet dog. Subtle nuances are revealed as the behavior of the anxiety-laden protagonists is rendered, for once, in real-time. This title is also available on...

Collection: Single Titles

Tags: performance

This first work in the HalfLifers' Action Series plunges into a world of frantic heroes trapped in a continual crisis of dissolution and reification. An ordinary domestic setting is recast as a psychoactive landscape in which the concept of function...

Collection: Single Titles

Tags: expedition/travel, food, future, humor

In a fictional conduit space, language and function are recontextualized as the HalfLifers struggle to re-assess the nature of their mission while engaged in an eternal cycle of maintenance and communication routines.

Collection: Single Titles

Tags: humor

I.S.L.A.N.D.S. #1: In Residence Dual trajectories through lush innerscapes propel us into color-saturated action-scenarios where the mission to re-establish identity and sustain communication linkage is never-ending. I.S.L.A.N.D.S. #2: Operation...

Collection: Single Titles

Tags: humor, performance

A HalfLifers journey to a lush interior landscape where some domestic chores and an unexpected encounter provoke a crisis at Mission Control, paving the way for a seasonal reflection upon the meaning of "home." This title is also available on...

Collection: Single Titles

Tags: family, humor, performance

The third installment in the Action Series. Two characters engage Ann Hamilton's Headlands kitchen-space and create temporal resonances. To survive they must break the fast (a midnight snack) and service the meal. This title is also available on...

Collection: Single Titles

Tags: camp, food, humor, performance

An alternative earth music video. An epic last stand. A portrait of two utilitarian workers engaging in a collaboration with Karen, manifesting improvisational geographic friendships... This title is also available on HalfLifers: The Complete...

Collection: Single Titles

Tags: humor, music, performance

The HalfLifers exhume cinema's favorite incarnation of mindless, decaying mortality, the Zombie, in the hopes of breathing new life into this misunderstood figure. From a panel discussion in an old TV studio to a quarantined helicopter high above...

Collection: Single Titles

Tags: body, death and dying, humor, media analysis, myth, performance
Exhibitions + Festivals
LACE, Los Angeles, January 20, 2011
Pacific Film Archive, Berkeley, February 18, 2011
Chicago Underground Film Festival, June 6, 2011
Zombie-Proof House, DiRosa Gatehouse Gallery, Napa, CA, June-September, 2011
HalfLifers: And Who Shall Rescue the Rescuers?, Video_Dumbo, Brooklyn, NY, September, 2011
Related Content