Donigan Cumming: Controlled Disturbance
06:00:00 | 3 DVDs
Collection: Single Artist Compilations
Tags: Aging, Body, Crime or Violence, Death and Dying, Health, Mental Landscape, Performance, Photography, Portrait, Self-Reflexive Video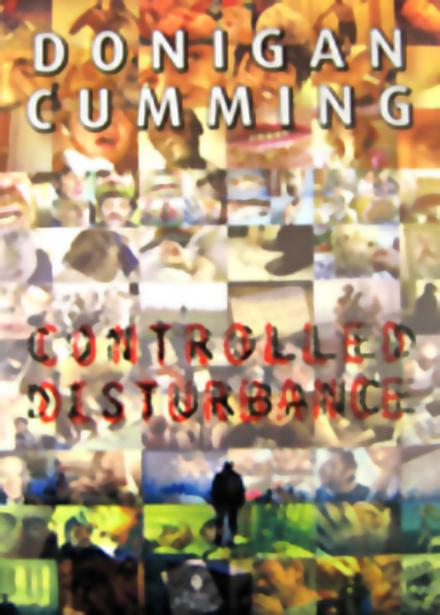 This three-DVD collection features 18 titles, 10 years of videography, and over six hours of material by Donigan Cumming.
"Cumming has said that it is his intention to question, "the myth of the innocent, invisible photographic witness." Borrowing from what he calls, "experimental ethnography," Cumming consciously positions himself not only as investigator, but also participant, caretaker and friend. Thus his examinations of human frailty are always tempered by a compassion that stems from his own involvement in the situations he records."
--Marcy Goldberg, Visions du Reel Festival, Nyon
"His real-life characters may be physically repellent and spiritually broken, and they represent what one does not want to face: sickness, aging, and mortality. These are not fairy tales with happily-ever-after endings, and yet at the same time they give us hope because they strive to confront reality at its strongest."
--Sally Berger, Museum of Modern Art, New York
"Taken as a whole, Controlled Disturbance: Donigan Cumming represents the admittedly challenging oeuvre of a significant artistic voice... Definitely recommended."
--F. Swietek, Video Librarian, The Video Review Magazine for Librarians, Sept.- Oct. 2007, Vol. 22, No. 5
The collection also features optional French sub-titles, a Vision du Reel atelier with Donigan Cumming, and the following essays:
Beyond the Absurd, Beyond Cruelty: Donigan Cumming's Staged Realities -- Sally Berger
Donigan Cumming: Mouthing the Pangs of Speech -- Catherine Bédard
Touching on Donigan Cumming -- Peggy Gale
Cruelty and Compassion -- Marcy Goldberg
Inventing the Self -- Marie-Josée Jean
A Sense of Detail -- Yann Olivier-Wicht
Cumming's Truth -- Jean Perret
Difference and Indomitable Ugliness -- Nicolas Renaud
Included Titles
A Prayer For Nettie dramatizes the death of an elderly woman who was Cumming's photographic model from 1982 to 1993, presenting an improvised series of prayers and memorials for Nettie Harris by people who knew her, and some who did not. In its...

Collection: Single Titles

Tags: death and dying, diary, health, memory

The police phoned. They left a message on the machine. They said he was dead. The video unwinds through stories of sex for rent, unclaimed bodies, cigarette burns, and other monuments of life's long run from wall to wall. Cut the Parrot is three...

Collection: Single Titles

Tags: body, death and dying, diary, health, memory, mental landscape, performance

Donigan Cumming's improvisational style traverses the boundaries of tragedy and comedy, drama and documentation. In After Brenda, Cumming redefines the genre of popular romance. His abject hero is Pierre, a fifty-something male who has lost...

Collection: Single Titles

Tags: diary, health, psychoanalysis

An ailing, elderly man listens to a private performance in his room. The singing is a halting mix cross-cultural-Inuktitut and Country & Western. Transgressive and mesmerizing, Karaoke distorts the landscapes of sound and body. In Inukitut. This...

Collection: Single Titles

A conversation about marriage and horses between two unseen men. This title is also available on Donigan Cumming: Controlled Disturbance and Donigan Cumming: Four Short Pieces.

Collection: Single Titles

Tags: family, health, mental landscape

"I'm not finished. I don't know how long it's going to take. As far as I'm concerned I'm officially dead." In his 50th year, Colin looks back on a life of drug and alcohol abuse. Four years into recovery, he is angry and articulate about addiction,...

Collection: Single Titles

Christmas Eve. A man alone finds someone he can talk to. "Pétit Jesus, a man speaks in his native French about his loneliness, his desperate need for love. The content of his speech is a poem of his own creation which he holds in his hand (off-...

Collection: Single Titles

Tags: aging, health, mental landscape

A camera on thin ice. This title is also available on Donigan Cumming: Controlled Disturbance and Donigan Cumming: Four Short Pieces.

Collection: Single Titles

Tags: landscape

The confession of a woman who took flight... A woman tells a tragic story straight to camera. The camera seems to be looking for the spot where the pain is, but the woman is too quick for the viewer. This title is also available on Donigan Cumming...

Collection: Single Titles

Tags:

To be a man, to be a hero, to be a wife: these conflicting voices inhabit the body of a documentary filmmaker as he re-enacts the climax of a Western morality play, 3:10 to Yuma. This title is also available on Donigan Cumming: Controlled...

Collection: Single Titles

Tags: performance

System failure: A man repeats the story of a prison stabbing as something goes wrong with the tape. This title is also available on Donigan Cumming: Controlled Disturbance and Donigan Cumming Videoworks: Volume 3.

Collection: Single Titles

Tags: crime or violence, film or videomaking, health, mental landscape

"What if... Colleen's life, in her own words, has been "wretched." She was sexually abused by her father, betrayed by her husband, separated from her children, driven by her love for a heroin addict to attempted suicide. Colleen has survived by...

Collection: Single Titles

Tags: documentary, family, gender

In his signature photographic style, Donigan Cumming eulogizes a dying friend through his exploration of "culture" in all its manifestations: 1. culture: a particular civilization at a particular stage 2. culture: the tastes in art and manners that...

Collection: Single Titles

Tags: aging, death and dying, health

With Cold Harbor, Donigan Cumming uses a minimum of elements to create a powerful anti-war message. Initially, the video seems enigmatic, almost abstract. An amateur Handycam moves tentatively around a hospital room, panning and zooming from the...

Collection: Single Titles

Tags: history, performance

In My Dinner With Weegee Donigan Cumming weaves together two life stories. The central figure, a man in his seventies named Marty, remembers his experiences in New York as a young Catholic labour organizer and peace activist, his friendships with...

Collection: Single Titles

Tags: activism, aging, art history, autobiography, documentary, health

Voice: off is the autobiography of a forgotten man. Brain damaged, body violated, emotions crushed, Gerry who rarely spoke has now lost the power of speech. The video camera is his prosthesis and he borrows the memories of people who no longer need...

Collection: Single Titles

Tags: aging, autobiography, body, death and dying, health, memory, photography

Locke's Way is the photographic path to knowledge, full of twists and turns, treacherously steep. What has happened down here? A family's photographs tell us everything and nothing about the subterranean past. "One of the central questions of...

Collection: Single Titles

Tags: aging, family, health, history, media analysis, memory, photography, youth/childhood