The World of George Kuchar
09:31:22 | 5 DVDs
Collection: Single Artist Compilations, Box Sets, Kuchar Archive
Tags: Animals, Autobiography, Body, Camp, Diary, Environment, Expedition/Travel, Family, Food, Holiday, Home DVD, Humor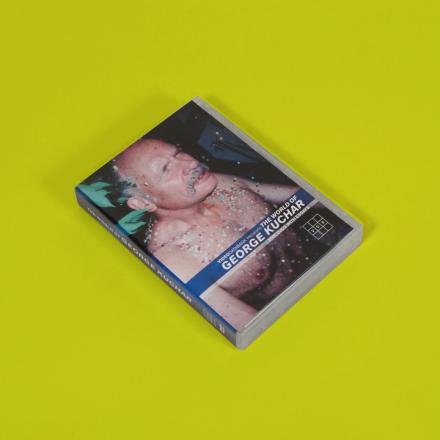 Beloved by filmmakers such as John Waters and Todd Solondz, George Kuchar worked with the moving image for over half a century. In the 1950s, Kuchar and his twin brother Mike began producing ultra-low-budget underground versions of Hollywood genre films, with names like I Was a Teenage Rumpot and The Devil's Cleavage. These 8mm kitchen-sink masterpieces bore the distinctive marks of what Susan Sontag called "camp," and positioned the Kuchar brothers as the Bronx's answer to the downtown underground filmmaking scene, which quickly adopted the Kuchars as their own — and in the work of Jack Smith, Andy Warhol, and others, showed their influence.
From the 1980s until his death in 2011, Kuchar created brilliantly edited, hilarious, and often diaristic tapes made with dime-store props and not-so-special effects, using friends as actors and the "pageant that is life" for his studio. In an essay that accompanies The World of George Kuchar, Gene Youngblood references his 1968 article on the (then) filmmaker, writing that, '"in these apparently lighthearted works I have always detected something more serious, something similar to the corrosive personal vision of Luis Buñuel, though I would not for an instant compare Kuchar to the Spanish master. Today," Youngblood continues, "I would. There is no doubt in my mind that George Kuchar is one of the great artists in the history of the moving image."
Curated by Steve Reinke and including essays by Reinke and Gene Youngblood, The World of George Kuchar collects twenty-seven works on five discs, and serves as an entry-point into Kuchar's extensive oeuvre of video work.
The collection features the following essays:
Excrements of Time: A Brief Introduction to The World of George Kuchar — Steve Reinke
Underground Man — Gene Youngblood
Included Titles
The comings and goings of the late underground filmmaker, Curt McDowell—and the people and activities that came and went along with him—are the themes that run through this existential diary of daily life. McDowell was dying from AIDS-related...

Collection: Kuchar Archive, Single Titles

Tags: aids/hiv, autobiography, health, humor, lgbtq

On a back-to-nature trip to Boulder, Colorado, George goes to the mountains, but goes on the rocks emotionally. This title is also available on The World of George Kuchar.

Collection: Kuchar Archive, Single Titles

Tags: autobiography, diary, expedition/travel, mental landscape

In this classic example of the Kuchar style, George travels to the Bronx to visit his mother and to see old classmates from art school. "We see what they have become or are becoming or already became." This title is also available on The World of...

Collection: Kuchar Archive, Single Titles

Tags: autobiography, humor

George visits his mother in the hospital on Halloween and contemplates the autumn colors. This title is also available on The World of George Kuchar.

Collection: Kuchar Archive, Single Titles

Tags: autobiography, humor

Thanksgiving in California is the setting in which the viewer experiences "the depression inherent to festive occasions. There were many things bothering me at this time, or maybe it was one thing that broke into many pieces. This title is also...

Collection: Kuchar Archive, Single Titles

Tags: autobiography, diary

George goes to Oklahoma, but there's a lull in storm activity. It's spring, and though there's romance in the air, the lightning just doesn't strike; so George makes his own rain—of sorts. Despite the drought, the videos must go on. This title is...

Collection: Kuchar Archive, Single Titles

Tags: autobiography, diary, expedition/travel, humor, lgbtq

The dark and sloppy side of touring college towns with your work. An internal expose of external secretions that unfortunately make it to the boob tube in full color. This title is also available on The World of George Kuchar.

Collection: Kuchar Archive, Single Titles

An island. A mountain. A City of Angels who scoop up the pellets dropped by other winged creatures. This title is also available on The World of George Kuchar.

Collection: Kuchar Archive, Single Titles

Tags: humor

Taped in Normal, Illinois, during the height of autumn, a snapshot of a young girl triggers a meditation on dying innocence and sizzling sausages as a low, winter sun ignites the smoke of greasy longings and meat-eating hunger. This title is also...

Collection: Kuchar Archive, Single Titles

Scenes from a vacation. Music comes on loud and clear and washes over a series of visual impressions of the land and the sky and the faulty plumbing that submerges porcelain bottoms in a sea of unmentionable froth. This title is also available on...

Collection: Kuchar Archive, Single Titles

Tags: diary, environment, expedition/travel, humor

A lavish home is visited, shutters click, bottoms are exposed, water splashes and a welcome wetness stains an area unquenched for so long. A jacuzzi bubbles to life in a bedroom community that floats to sleep on aqua-filled rubber. This title is...

Collection: Kuchar Archive, Single Titles

A trip to a barren landscape of jagged peaks and deep crevasses becomes a playground for an over-dressed hiker and his beefcake buddy as they secrete and imbibe fluids from various containers. This title is also available on The World of George...

Collection: Kuchar Archive, Single Titles

Tags: expedition/travel, humor, lgbtq

A sort-of music video that focuses on and under young women and men engaged in focusing video and movie cameras on other young men and women. This title is also available on The World of George Kuchar.

Collection: Kuchar Archive, Single Titles

A behind-the-scenes look at the man behind the trophy and the poisons that taint an otherwise jubilant jamboree. This title is also available on The World of George Kuchar.

Collection: Kuchar Archive, Single Titles

The strings of fate manipulate the living and the dead against a landscape of water vapor and watercolors which make more palatable the unacceptable and the undigestable. This title is also available on The World of George Kuchar.

Collection: Kuchar Archive, Single Titles

Tags: humor

The young and the innocent at the mercy of a palpable presence oozing menace and scarlet-stained goodness as a strawberry sundae melts under the glare of future hell-firestorms in search of kindling. This title is also available on The World of...

Collection: Kuchar Archive, Single Titles

Tags:

Ice falls from the sky as tears plip-plop onto wall-to-wall carpeting. No degree of renovation can enliven the dead that we mourn in our hearts as the storm of the centuries assails our heads with memories of the passing parade that got rained on. A...

Collection: Kuchar Archive, Single Titles

Tags: diary

The splendor of a mountain lake is clouded by the musings of a brain in memory mode. The head relives the heartbreak of suburbia and the vacancies that fill every motel on the edge of nowhere. The body moves through a rainbow palette of indelible...

Collection: Kuchar Archive, Single Titles

Tags: expedition/travel, humor

The New York City summer is fueled by the sultry emanations of hot air that tumble off the tongues of potential thespians as they attempt to decipher the gastric guesswork embedded in the prose of the pre-production process. The video camera flits...

Collection: Kuchar Archive, Single Titles

Tags: autobiography, city, diary, humor

Alone in my room at the El Reno Inn, way out west from Oklahoma City, I face a big picture window that overlooks the refuse of Route 66 to ponder the fate of trailer trash in Twisterville. The skies darken and rumble to the sounds of Mother Nature...

Collection: Kuchar Archive, Single Titles

Tags: humor

The spirit of poets permeates the space/time occupied by an assortment of dinner engagements that occasionally erupt into physical or verbal assaults on the taste buds. Flowers of evil are absent from this foray into the spoken word, as the message...

Collection: Kuchar Archive, Single Titles

Tags:

A metropolis awash in electrical overdrive crashes in the heat of summer and sends a Bronxite into the clutches of a waterworld further north. It is there that we witness the cooling fogs and diving mammals of maritime yore and sail free in winds of...

Collection: Kuchar Archive, Single Titles

Tags: city, expedition/travel, family

Clouds abound in this short meditation on vaporous masses that flow across the borders of our windowpanes, leaving in their wake the wreckage of discarded diets and sugar coated emptiness. Into those holes that surround us with the sweetness of...

Collection: Kuchar Archive, Single Titles

A California Christmas season ushers in an array of holiday visuals designed to feed the hunger of soiled souls in search of truffle filled delights. A glittering seaport of electric lights helps the viewer to see through the murk of isolation as...

Collection: Kuchar Archive, Single Titles

Tags:

Beloved by filmmakers such as John Waters and Todd Solondz, George Kuchar has been working with the moving image for nearly half a century. In the 1950s, Kuchar and his twin brother Mike began producing ultra-low-budget underground versions of...

Collection: On Art and Artists, Interviews, Single Titles

Tags: interview, vdb interviews

A deliberately tasteless drama about televangelist scandals. This title is also available on The World of George Kuchar.

Collection: Kuchar Archive, Single Titles

Tags: humor

A series of abrupt vignettes and transitional montages paint a torrid portrait of a tropical isle in the grip of terror. Linda Martinez stars in this latest atrocity from studio 8 in the San Francisco Art Institute and her co-stars don't find her...

Collection: Kuchar Archive, Single Titles

Tags: humor
Related Content